I needed a standing desk workspace that could fit into a suitcase, here's what I did
By Adam Walker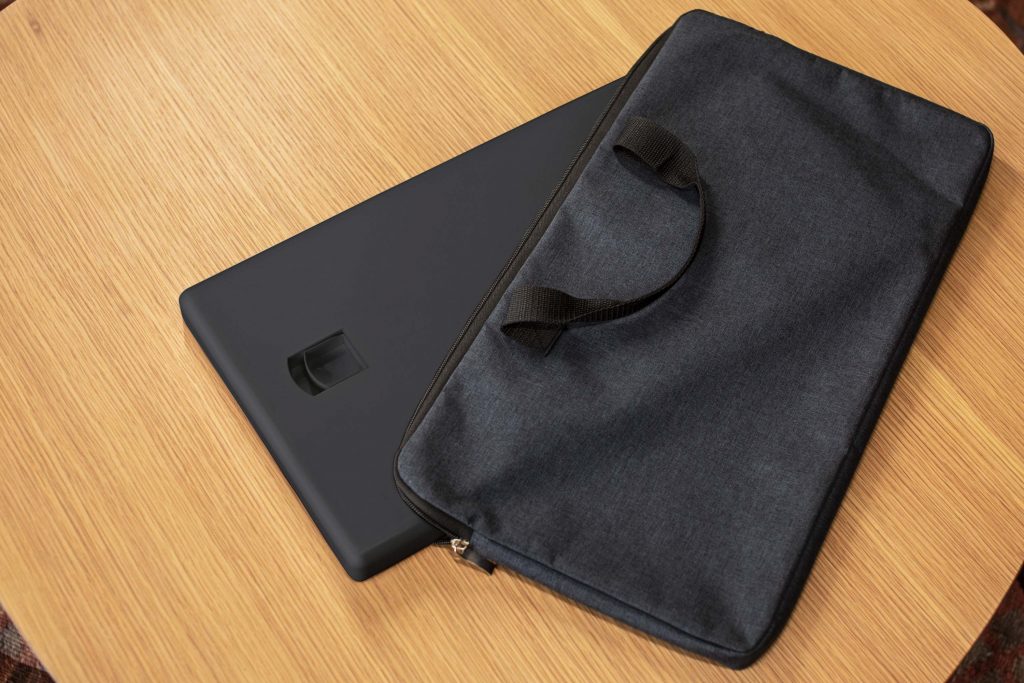 With my new role, I'm fortunate to be able to work anywhere within the US time zones. This will allow me to not only visit friends and family in the US but also visit tourist locations throughout Latin America. Work + travel is something that I have always wanted to do. 
However, to make this happen I would need a workspace that allows me to work as efficiently from the road as I do from home. That requires a setup where I can sit + stand, and use a monitor for split-screen work. Not to mention, it would also require that the workspace is lightweight and able to fit into a 21″ medium-size suitcase.
I believe I have found that workspace, and I am sharing this post with you to save you the trouble of having to find it yourself. Note: at the time of writing I am in Kerala India with my wife's family and efficiently working from this setup.
This travel workspace requires the following items:
22″ Computer Monitor
Monitor Stand
Standing Mat
Cases for Computer Monitor, Keyboard and Mouse
19″ Portable Laptop Risers
These little laptop risers weigh 7lbs each and rise to a height of 15″. I use one for my monitor, and one for my keyboard and mouse. By having two separate risers, I have the benefit of:
The ability to control my distance from my computer monitor
The ability to type comfortably without shaking my computer monitor
Though the risers are not light, they are however extremely portable and well built. Together, my monitor and mount weight 10lbs, but the riser has zero issue going up and holding the two. I highly recommend them.
22″ Computer Monitor
So among the choices of 22″ monitors (not too big, not too small), I decided to go forward with BenQ 22″ model because of BenQ's 'Adaptive Brightness' technology. This feature adjusts the screen's brightness automatically based on the ambient room's lighting. This saves you the trouble of toggling your display's brightness throughout the day; I have a 27″ BenQ at home, and this technology is genuinely useful.
The last thing I will say is that for those that are willing to shell out a little more to get a 4K monitor that is slightly larger at 24″, then I would recommend this LG.
Monitor Stand
I'm 5'8″ and found that I needed more height to get my monitor eye level. So I bought this generic monitor stand to add an additional 20″ to my Rocelco riser's 15″.
To attach the stand to the Rocelco riser, I used a metal C-clamp. I recommend using a C-clamp because the Rocelco riser has 1″ lip on the edges, making it difficult to use the monitor stand's packaged mounting materials.
Note: I experimented with several mounts and found this one to be the lightest.
Standing Mat
I personally like using a mat while standing and did not want to inconvenience my work + travel without one.
I picked this mat because it was the smallest I could find. Though the mat is slightly larger than 21″, it is made of a soft material that easily bends in the suite case. As an added benefit, the mat provides a significant cushion for my computer monitor in my suitcase. I put the standing mat in the suitcase first then the monitor on top.
Cases for Computer Monitor and Keyboard and Mouse 
I've traveled with computer monitors before and find the process of packing, moving, and removing the monitor to be precarious. So I purchased this traveling case designed for 22″ monitors.
The case is light, durable, has a handle and several pockets to store your wires.
I highly recommend using a monitor case so you can avoid stressing about how well you packed your computer monitor.
Maybe this is a splurge expense, but I always find it anxiety-inducing throwing my Apple keyboard and mouse in my backpack. I'll often hear a 'click' from my mouse, reminding me about how poorly I take care of my devices. And then I'll begin to imagine my keyboard keys getting crushed in my bag.
Call it an insurance policy; I just think it's better to pay to keep your good devices protected.
I picked this particular case because of its foam top. This creates a gap between the hard outside case and the keys of my keyboard, so you don't have to worry about your keys ever getting depressed.
Summary
I hope this list of items helps you get your travel workspace started. I'm really happy with my solution because it provides me the functionality I require, plus ergonomics, and it's all light and small enough to fit into my medium sized suitcase.